Paper Stewardship Scheme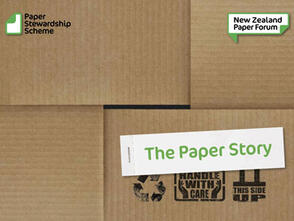 The Paper Stewardship Scheme is a voluntary initiative launched by the NZ Paper Forum (NZPF) to promote print as a renewable and responsible choice, and minimise its impact on the environment at each stage in its product lifecycle.
All members of the NZPF are signatories to the scheme.
The Paper Stewardship Scheme builds on initiatives already in place in the industry and has three objectives:
To measure and benchmark recovery and recycling rates each year
To develop a best practice guide for the paper sector.
To develop an education strategy for the buyers and users of paper
In order to communicate the scheme to the wider community, the NZPF has produced The Paper Story. This publication also informs people about the real environmental impact of paper, which is much less than many people believe.
This is an excellent resource to share with customers and print buyers. Download your copy from the Related Resources box on the right-hand side of this page.
NZPF Chairman, Charles Miller, says:
"I'm really proud of the work the industry, suppliers, customers and the community are doing to ensure paper is the truly sustainable product it's designed to be. 65% of all paper and paperboard products in New Zealand are recovered and reused by the industry. A large proportion of the remaining 35% are reused by customers. By ensuring good information is available to those involved at all stages of the product lifecycle, we can ensure that paper and paperboard products are managed with the least environmental impact. We can also ensure recovery and reuse rates remain at world's best practice levels," he said.
For a hard copies of The Paper Story please email pam.seymour@printnz.co.nz.